Some customers require specific units of measure or coordinate system information to be written into the header when using the 'Rectify mosaic' or Convert Raster Files in either ECW or GeoTIFF format.
ECW
To ensure that your ECW format data contains the desired units, simply make a modification to the Design File Settings (MicroStation->File->Settings->File->Design File Settings-> Working Units). Change the Master Unit to the desired units.
GeoTIFF
There is now a simple way to ensure that your GeoTIFF format data contains the desired units. Beginning with TerraPhoto version 017.003, the ability to specify units when writing out GeoTIFFs in 'Rectify mosaic' and 'Convert Raster Files' is offered in the form of a drop-down options when selecting the coordinate reference system.  When selecting the output coordinate system (examples below) then the 'Select coordinate system' dialog gives the option of selecting the desired units.
If a desired coordinate system is not in the coordinate system dialog, text files in the TerraPhoto installation folder can be edited to include additional coordinate systems.
For ECW, update the ecwdatum.txt and ecwproj.txt files.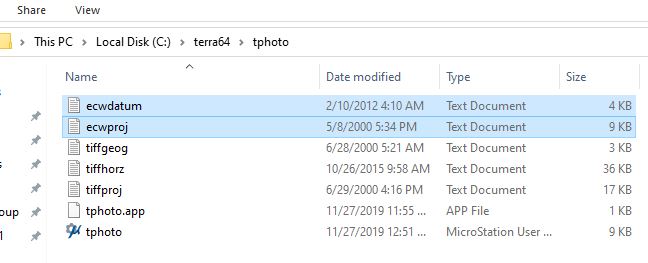 For Geotiff, update the tiffgeog.txt, tiffhorz.txt, and tiffproj.txt files. For reference use the codes and names listed in the GeoTIFF specification. 
tiffgeog.txt: http://geotiff.maptools.org/spec/geotiff6.html#6.3.2.1
tiffhorz.txt: http://geotiff.maptools.org/spec/geotiff6.html#6.3.3.1
tiffproj.txt: http://geotiff.maptools.org/spec/geotiff6.html#6.3.3.2